"Great dialogue and humor to boot! It was the best children's play at South Park this summer."
– Leonard Lies, audience member, film director, and "Machete Zombie" from the original Dawn of the Dead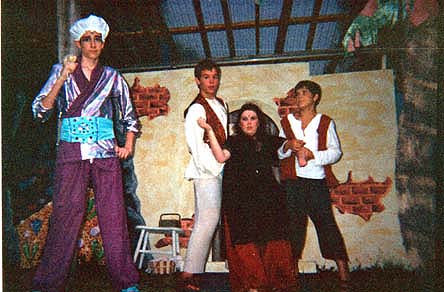 In a delightfully hilarious adaptation of the classic tale from 1001 Arabian Nights: Aladdin—a poor, lowly street urchin—discovers his destiny when a cunning, dastardly magician arrives on his doorstep, saying that Aladdin is the key to uncovering a fabulous treasure.
Hoping to take his family from rags to riches, Aladdin agrees to follow the magician to where the treasure is located: The distant Cave of Wonders.
Angered by Aladdin's impertinence, the magician traps Aladdin in the cave. All seems lost until Aladdin uncovers a magical lamp from whence emerges an outrageous, fun-loving magical genie. The genie grants Aladdin three wishes, one of which is to meet the stunningly beautiful princess!
But the crafty magician is lurking nearby. And he is not done with Aladdin—or his magical lamp—quite yet!
WATCH A SCENE FROM THE PLAY
| | |
| --- | --- |
| Cast: | 6 men, 3 women (2 either) |
| Run Time: | ~65 Minutes |
| Intermission: | 1, depending on needs |
| Set: | Unit |
| Genre: | Fantasy, Comedy, Fairy Tales, Adaptation from Literature, TYA, Children's Theater |
| Preview: | HERE |
| Acting editions, director's binder books, and performance rights and permissions for this show are all available exclusively from: | |