"A farce of modern mythological proportions. Dietz has created a little romp that could play anywhere. Very fun."
– John Hayes, Pittsburgh Post-Gazette.
"I liked it so much. This is high praise from me because, in truth, I often don't like plays. But this was different. The dialogue was really funny. [The characters] actually seemed like real people."
– Barbara D'Souza, audience member.
"In a season of such warhorses as The Odd Couple, Perfect Wedding and Funny Money, I commend South Park Theatre for going out on a limb introducing their audiences to Dietz's new work."
– Ted Hoover, Pittsburgh City Paper
"...a well-constructed and heartwarming mix of mythology, comedy, and modern romantic tribulations..."
– Sarah Lunnie, Literary Manager, Playwrights Horizons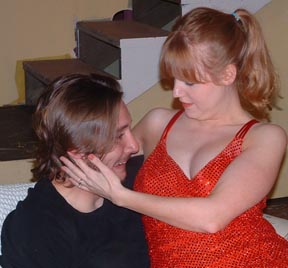 Following "one of those nights," Daran Walters, perennial loser in the game of love, inexplicably finds himself back in the home of Mitzi Doherty, the "one that got away."
Mitzi's family—her hardhearted mother, in particular—is none-too-pleased by the sudden reappearance of her ex-boyfriend after more than a year, as it curiously coincides with Mitzi's imminent nuptials.
And, as if the situation wasn't awkward enough, Daran also begins seeing a mysterious and strangely alluring—not to mention mischievious—woman about the house named Val who may (or may not) be the fabled Goddess of Love!
Is Daran dreaming? Hallucinating? Or could it be that he has actually been called to serve some higher purpose?
The answers are surprising and the laughs are plentiful in this delightful romantic fantasy comedy of love, loss and letting go.