The Play's the Thing!
From Shakespeare to Simon (Neil, that is), Moliere to Mamet, or Coward to Cameron (Bill - he's a friend from my hometown, so he counts!), some time in my more than 15 years of professional experience, I've performed plays by one or more of these names.
Whether it's comedy, drama, farce, or improvisational dinner theatre, the stage is where I was first bitten by the acting bug, and it's where I find myself returning to time and time again.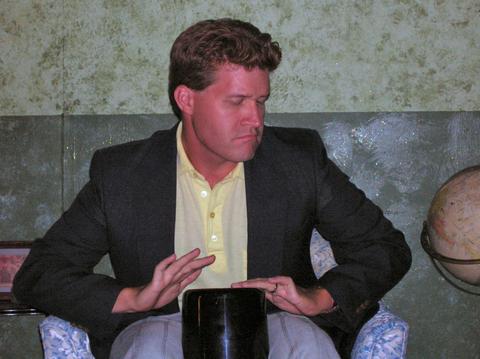 Me as "Reg" in South Park Theatre's production of
The Norman Conquests: Table Manners
My degree in Communications Management is augmented by a Theatre Minor with heavy concentrations in both acting and script analysis. I was also a recipient of Robert Morris University's coveted Ellen Petterson Memorial Scholarship for Performing Arts and was nominated for Outstanding Performance by an Actor in a Leading Role at the 2002 Pittsburgh New Works Festival.
But, of course, my theatrical experience is not limited to merely acting.
You've probably heard that old cliche every actor says: "What I really want to do is direct." Well, I've not only been privileged enough to realize that ambition, but I've also gone where only a handful of other actors have dared to go and written several plays of my own! And, yes, they have been produced as well!
(Synopses and dialogue samples are available under the "z-Diet-3 Productions" section.)